Fire Protection Measures for Wastewater and Collection Facilities
By Brian Literski, PE
Whether during design or while making operational upgrades, wastewater and collection facilities—like other types of infrastructure—need to be regularly evaluated and kept up to date to avoid potential hazards. One of the standards that frequently raises questions involves fire protection measures and how to make sure facilities have compliant systems in place.
Helpful Tools
The National Fire Protection Association (NFPA) and the National Electric Code (NEC) provide several means and methods to use during design and upgrade projects for wastewater and collection facilities. Access NFPA's information here and NEC's subscription information can be found here.
Fortunately, both the National Fire Protection Association (NFPA) and National Electric Code (NEC) provide standards for fire protection in wastewater treatment and collection systems. These standards —NFPA 820 and NEC Art 501—provide direction, guidance, and installation procedures to make sure treatment facilities are compliant. Both standards provide several means and methods for providing fire protection solutions in wastewater treatment and collection systems.
NFPA 820
The "Standard for Fire Protection in Wastewater Treatment and Collection Facilities," otherwise known as NFPA 820, is a standard that describes fire protection methods for different types of wastewater and collection facilities. The methods of protection for facilities should follow NFPA 820 unless federal, state, or local laws and regulations require other methods. (More information on NFPA 820 and wastewater treatment plants/collection facilities and processes classifications can be found on the NFPA website ) Basically, NFPA 820 defines specific hazards and ways to prevent them in facilities where flammable gasses are produced during the collection and treatment of wastewater, most notably Hydrogen Sulfide (H2S) and Methane (CH4).
NFPA 820 provides guidance for controlling flammable gases with ventilation based on the distance from a source, or air exchanges, that will dissipate gasses produced during the conveyance or treatment processes to a non-hazardous level. The NFPA 820 code also allows physical separation of locations within an enclosed area. This separation creates a boundary between hazardous and non-hazardous locations in the wastewater treatment facility.
NEC Article 500
Since electrical equipment can exist in both enclosed and exposed spaces, it's also imperative that NEC installation methods are followed to provide power—or control—to the equipment.
NEC's Article 500 defines hazardous locations and uses Articles (Art.) 501, 502, and 503 to provide electrical installation requirements to protect against fire in hazardous areas that are either:
CLASS I hazards for flammable gases (Art. 501).
CLASS II hazards for combustible dust (Art. 502).
CLASS III hazards for ignitable fibers/flyings types of hazards (Art. 503).
In the case of wastewater and collection facilities, Art. 501 – CLASS I hazards generally only apply to electrical installation methods due to the potential for flammable gases or vapors. Refer to NFPA Article 500 and 501 for electrical installation information on these types of classified systems.
Art. 501 also provides methods for installing electrical equipment and wiring into and inside of the hazardous location or boundary location. When interpreting the code, it's also important to note that when the NEC uses the term "explosion proof," it is not saying that an explosion cannot happen; it is indicating that the explosion will be contained inside of the enclosure and remain at a low enough temperature so it won't ignite the surrounding flammable atmosphere. Having "explosion-proof" enclosures and conduit systems in place will help contain the risk of igniting the surrounding flammable atmosphere. Sealing conduit within 18 inches of any spark source using explosion-proof seal-offs will minimize impact should an explosion occur inside of the enclosure.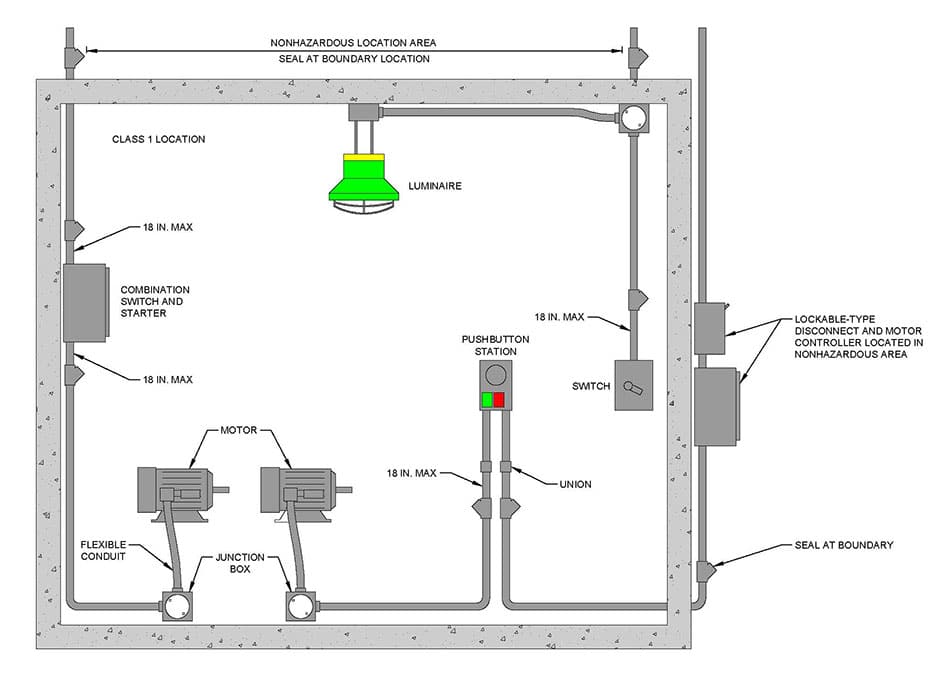 The diagram above shows how this works in a real-world example. The light switch, which is considered a sparking device, must have a seal-off within 18 inches of the switch enclosure. Conversely, a junction box for a light where a permanent wiring connection is made, is not considered a spark source. Therefore, according to the NEC Handbook, the explosion-proof junction box does not require seal-offs within 18 inches of its location inside the classified area. A seal-off is still required on any conduit leaving the classified space.
There are other means and methods described in NEC 501, but these basic evaluation steps provide direction and guidance for an electrical installation in a Class I hazardous location to help minimize an electrically caused explosion.
Finally, another tidbit of information that we've found to be helpful̶–if a conduit passes through a hazardous location without any unions or junctions and travels 12 inches beyond the classified boundary, then no seal-offs are required.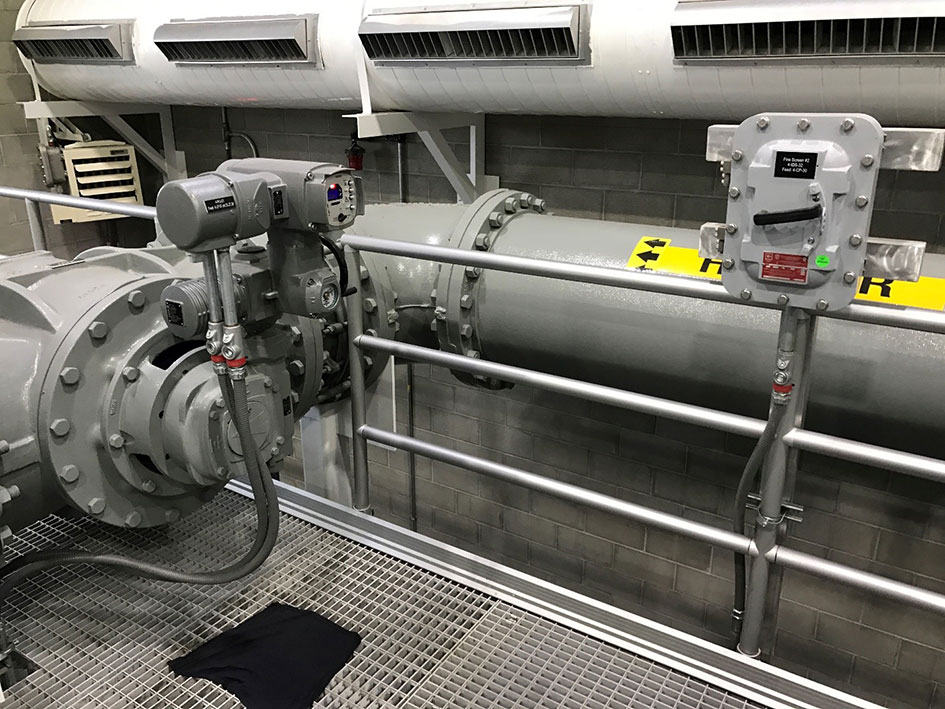 Please let us know if your wastewater or collection facilities need a fire protection means and methods review. We are happy to help evaluate treatment systems for NFPA 820 and NEC compliance.
Brian Literski is a professional engineer who works in Morrison-Maierles's Helena office. He provides electrical design engineering focusing on industrial power and control systems. Brian lives with his wife and three kids and especially enjoys skiing, mountain biking, and kiteboarding.
Technical review provided by Michael Brandt, PE.
Related Articles