Water Management
Not Just Another Acronym: PFAS Gaining National Attention
By Craig Nowak, PE
Have you heard of PFAS? You may recently have come across a new term in the news or water-related engineering periodicals. I admit that I hadn't heard of this term until I read an article that further piqued my interest.
If water plant operators, public works directors, city and county government officials and the general public (to name a few) haven't heard about PFAS, they likely will soon.
PFAS, or per- and polyfluoroalkyl substances, have captured the attention of water industry regulators, municipalities and industry associations because of their potential adverse effects to health and environment. The American Water Works Association (AWWA) issued a PFAS briefing in 2019, which is the source of the information I'm providing you below.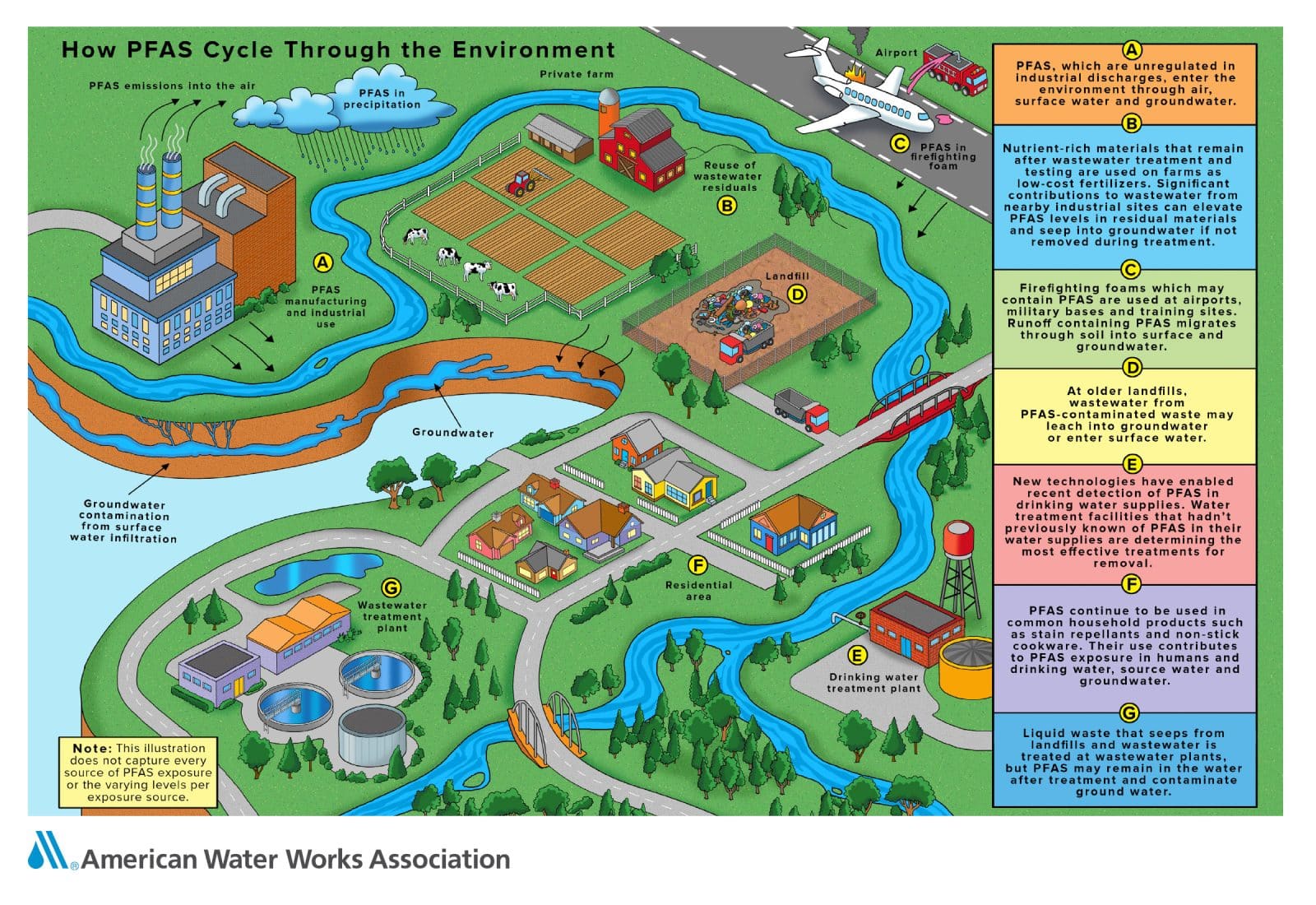 (Above) This graphic, provided by the American Water Works Association (AWWA), shows how PFAS moves through the environment and can potentially end up at our water and wastewater treatment facilities.
---
Historic Use of PFAS
PFAS have been around since the 1940s and are used to manufacture many products that we use and benefit from daily. To name a few, PFAS are found in:
food packaging
medical equipment
nonstick cookware
stain repellents
cosmetics
firefighting foam
oil recovery materials and processing
While some of the products that contained PFAS are no longer used today in the United States, recent research is showing that they are still found at specific sites where they were once used and remain in our land and water. Further studies show that in several instances, we may have inadvertently ingested PFAS and residuals may linger inside us.

In addition to landfills, airports and military bases, PFAS have been found in water supplies and, at the other end of the water-use cycle, in wastewater after treatment processing has been completed. PFAS also have been known to seep into the ground water. One of the most helpful resources on PFAS and their link to biosolids is discussed in a WaterWorld webcast presented by Lynne Moss, Black & Veatch Practice Leader for Residuals and Odor Control.
Much is known about PFAS, but much is also unknown. Some PFAS are toxic and their toxicity levels and effects are unknown. Several states have established Maximum Contaminant Levels (MCL), but they can vary amongst states with established limits.
What's Being Done?
The U.S. Environmental Protection Agency (EPA) has addressed the PFAS issue by initiating a regulation evaluation in 2009 and following up with a PFAS Action Plan in February 2019.
The AWWA is also doing its part in the PFAS arena. They testified before Congress and will continue to provide the EPA with information, data and assistance.
In Montana, the Department of Environmental Quality (DEQ), has a page on their website that addresses several areas of concern and answers many questions regarding PFAS. Go here to learn more.
Clearly, more research is needed and more information must be gathered on PFAS. Regardless of our involvement, those of us in the water industry must be aware that PFAS exist and that we must do our part to safeguard the public's health and safety. The increasing attention and scrutiny on PFAS is even leading to litigation, which underscores the importance of understanding and fully addressing impacts from PFAS.
PFAS is a subject that needs our time and attention. My next blog will provide more information about environmental effects, health effects and possible treatment approaches specific to water supplies.
Read More: PFAS and Our Water Supplies