Infrastructure Services
ARFF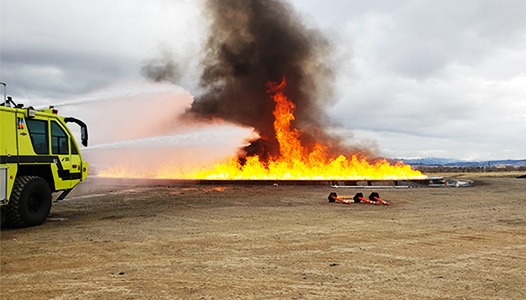 Comprehensive Fire and Training Center Design
As one of the few firms in the U.S. specializing in Aircraft Rescue and Fire Fighting (ARFF) training facilities, we can help with your new, retrofit, or rehabilitation project. With decades of experience and first-hand knowledge of current ARFF standards, we have the historical context to ensure your project is done right with modern practices using the latest technology.
To ensure we're helping you get the right solution for your airport, we can perform a feasibility study of your existing training center and provide options for upgrading or constructing a new ARFF center that meets your needs and budget. And, as airport engineers, we can guide you through FAA and state aviation funding programs to help get the assistance needed for your new or renovated training center.
Reach out today for more information on how we can help with your ARFF projects.
Services
ARFF buildings and training center buildings planning and design

ARFF vehicle specifications and acquisition

Bidding and construction management

Business plans and financial analysis

Coordination and communication between training facility stakeholders (including FAA)

Environmental assessments

Facility and site planning

Hydrocarbon and propane burn pit designs

In-house civil, structural, mechanical, and electrical design
Related Projects

Alaska Regional Aircraft Fire Training Center
Kenai, Alaska
The Alaska Regional Aircraft Fire Training Center provides classroom and live fire instruction to develop the skills necessary to perform aircraft rescue firefighting duties.