Airports
Exploring Solutions for Emergency Egress Lighting
By Ryan Maroney, PE
As you know, emergency egress lighting codes can be difficult to interpret. In my previous article, we focused on "the why" of emergency egress lighting code requirements and discussed the purpose behind these requirements. Let's take this one step further and dive into solutions for implementing emergency egress lighting on your next project.
"Bug-Eyes"
"Bug-eye" lights used as standalone fixtures can be used to satisfy emergency egress lighting requirements. With this approach, emergency lighting units are provided along the egress path, wired to the unswitched leg of the circuit that feeds the normal lighting fixtures. These bug-eye lights remain off during normal building operations in the presence of utility power when their integral batteries remain fully charged up by the utility power. Upon losing utility power, or if the breaker feeding the lighting trips, the bug-eyes turn on and provide illumination via their integral batteries. These units are generally small and inexpensive, which can be a plus in a project with a tight budget.
However, it is arguably the least aesthetically pleasing solution available due to the addition of separate units spaced along the egress path dedicated solely to emergency egress lighting. Maintenance-wise, these units can be easily tested and replaced, as they are visible and distinguishable in the space. However, as they are dispersed, maintenance will require physically reaching each unit, which can be time-consuming depending on the size of the building and egress path(s).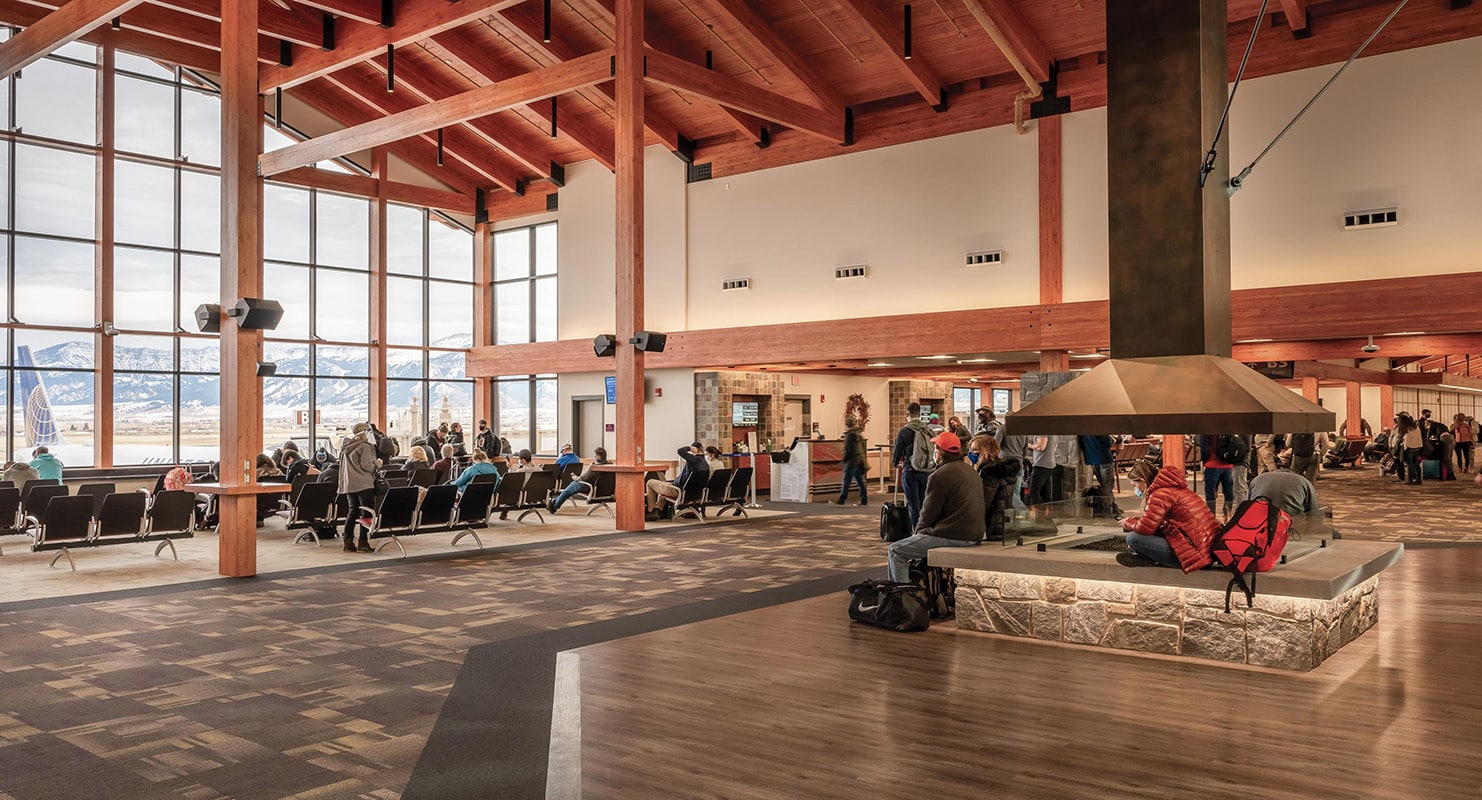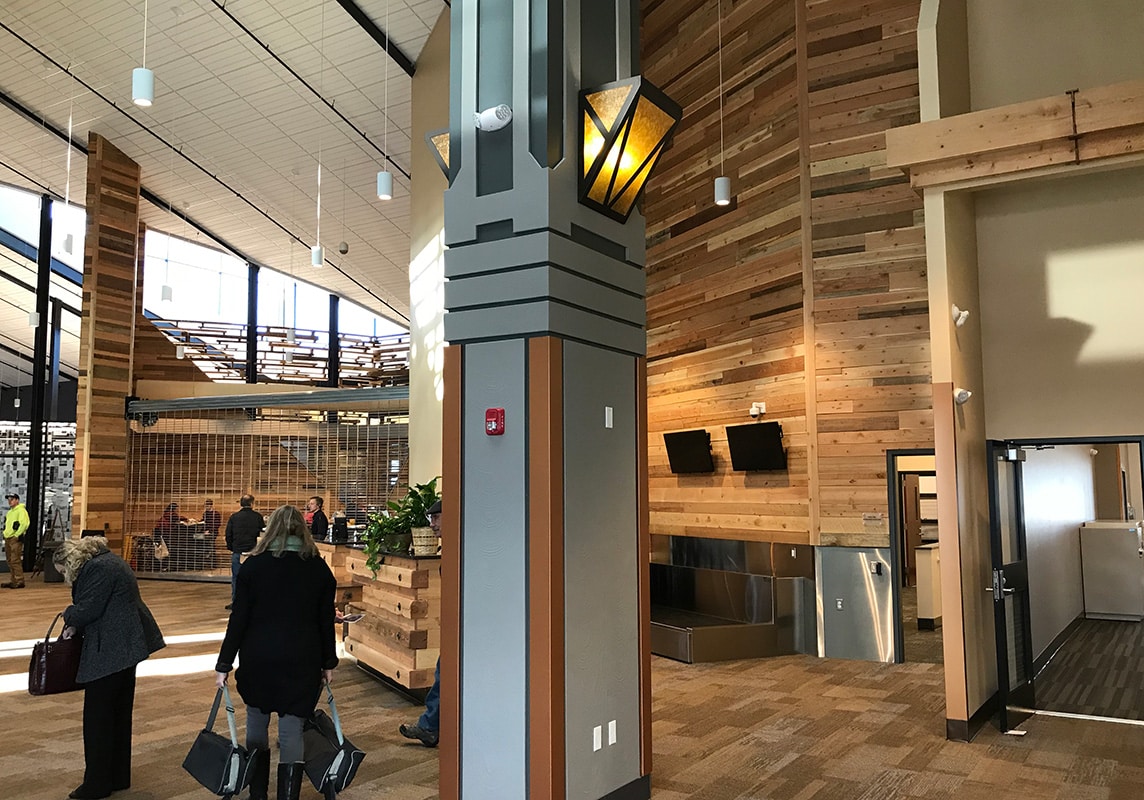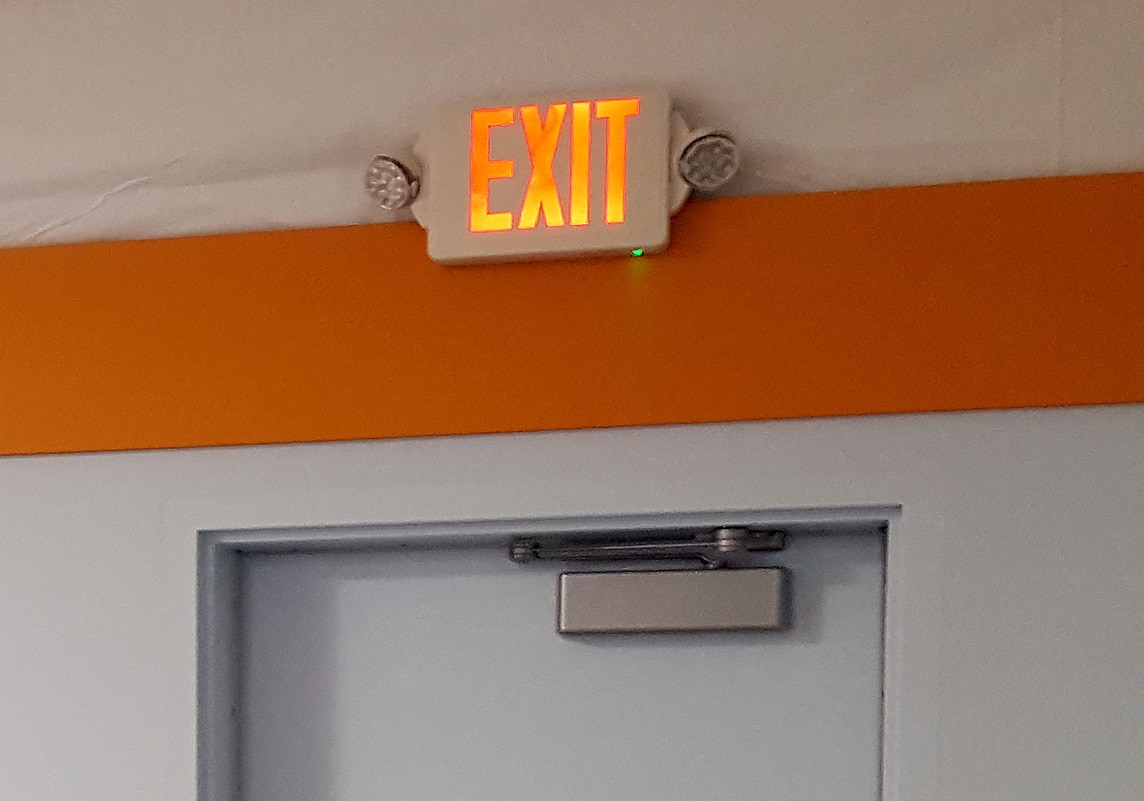 Internal Battery Back-up in Select Light Fixtures
An exit sign with "bug-eye" lights that will provide emergency egress lighting upon a power failure.
The next solution is to utilize batteries integral to the normal lighting fixtures. This solution is similar to the first in using individual batteries to achieve illumination during a power outage, however, this option conceals the batteries within the construction of the normal lighting fixtures. This makes it a more aesthetically appealing solution, as no additional visible units are dedicated solely to emergency illumination.
Operationally, upon utility power failure, the luminaire(s) with these integral batteries will remain on to provide emergency illumination, thanks to the battery (although typically at a reduced lumen output). Upfront installation and wiring are fairly simple and straightforward in this option.
Cost-wise, this option is often similar to the previous option, as it does add a fair amount of cost when a general luminaire is ordered with an integral battery backup.
One drawback to this option is that replacing the batteries can be more maintenance-intensive. Depending on how many fixture types are in the building, there could be several different battery types to replace. Also, physically replacing the batteries can be a hassle as they are inside the fixtures, thus requiring opening up the fixtures. Cold temperatures can also be an issue for batteries, making this option tricky for exterior applications.
Lighting Inverter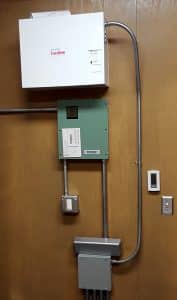 This approach uses a lighting inverter to provide emergency egress lighting. A lighting inverter is a large battery (or bank of batteries). However, unlike the first two options, a lighting inverter can be placed in a central location and wired to back up many light fixtures. This can be advantageous from a maintenance standpoint, as you can go to one location to test and replace batteries.
Operation-wise, upon power failure, the lights wired to the lighting inverter will remain on to provide emergency lighting, while the other lights not backed up by the inverter will go dark. The inverter comes on whenever the normal lighting circuit in the egress path loses power, whether it is a utility outage or a local breaker tripping.
One drawback to this solution is that lighting control zones and wiring can often be tricky with lighting inverters and require some planning and forethought.
Generator
Instead of using batteries in one form or another, as in the first three options, the last solution is to use a generator to back up the emergency egress lighting. A typical generator is diesel or gas (natural gas or propane) powered and following a power outage, can usually run well past the 90-minute minimum code requirement for emergency egress lighting, as long as there is fuel available to keep it running. Generators used for emergency lighting must comply with NEC article 700, but we won't get into the details here (if you'd like more information, see Garth Stevens' series of articles on this topic). In short, there are many requirements to follow if using a generator for emergency egress lighting, which can add complexity and cost to your power system. However, if you have other uses or needs for a generator, utilizing a generator for emergency egress lighting is a great option. No longer are there batteries to worry about. Rather, in this option, maintenance will consist of testing and maintaining the generator.
Testing
Regardless of which option is implemented, each solution will require annual testing of the emergency egress lighting for 90 minutes and monthly testing for 30 seconds. For a generator, monthly testing of 30 minutes is also required. Proper maintenance and testing are essential to ensure that adequate emergency egress lighting is available when a power outage arrives.
Summary
There are many important considerations when it comes to deciding how to tackle emergency egress lighting best. For every project, it is essential to weigh the pros and cons of each option prior to finalizing a solution. One project may hold aesthetics as a top priority, while another may be most concerned about maintenance issues or cost. Whatever the case, there is a solution for even the most demanding projects.
What You Need to Know About Emergency Egress Lighting