Airports
Preventing Thermal Bridging in Building Envelopes
By Nate Menuez, PE
We face many challenges in the design and construction of a new building. From large, big-picture issues down to the finest details, one of the finer problems that consistently arises is thermal breaks in building envelopes. This bridging can cause a wide array of problems including unwanted, excessive heat flow and energy loss through the exterior envelope in a building.
Thermal Bridging
What is thermal bridging and how can it affect the performance of a new building? This occurs when a structural (or non-structural member) of thermal conductivity causes heat transfer through the building envelope. A wide variety of conditions can cause thermal bridging, including cantilevered structural members for awnings or exterior balconies, metal wall studs, shelf angles, or other non-structural discipline features. Specific materials, such as structural and architectural steel, is frequently the most significant player due to its high thermal conductivity, (approximately 1,500 times that of typical insulation), large cross section, and thickness.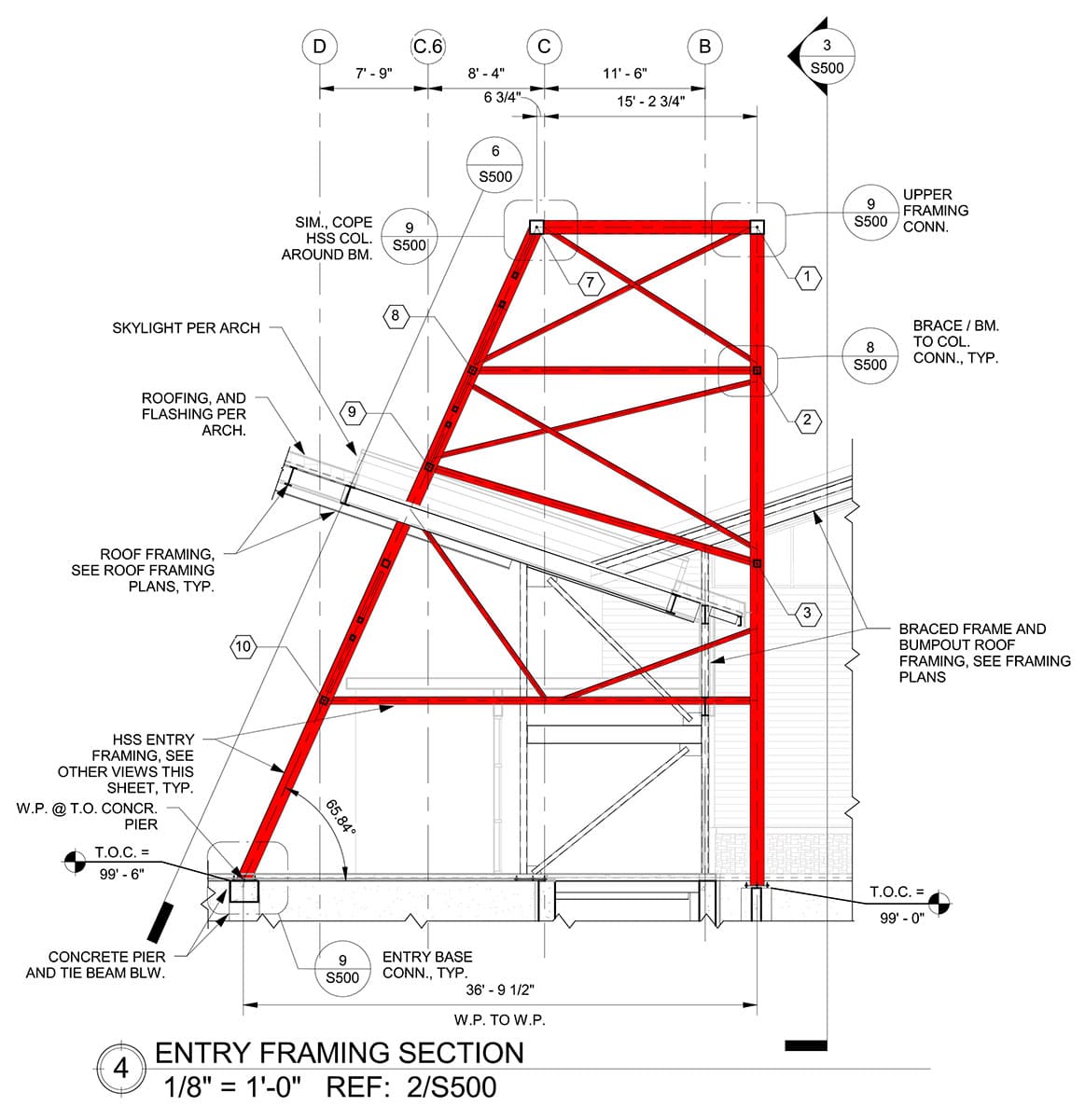 (Above) This drawing shows a structural thermal break section for the Bert Mooney Airport Terminal project. Go here to read more about this project and see finished photos.
---
Excessive heat flow and energy loss are not the only negative results of thermal bridges. More commonly, warm interior temperatures and cold exterior temperatures can result in visual condensation on exposed members in the form of frost or water drips. Down the road, this condition will likely require expensive remediation. In addition to visual, unsightly situations, thermal bridging can also result in less obvious issues such mold growth, minor heat loss, corrosion, or weakening of structural members.
Generally, design details do not include preventative measures against thermal bridging. To my knowledge, design and installation of thermal breaks are not currently addressed in the current editions of the code provisions. Hence, many design professionals may not be aware of thermal break issues and more importantly, how to prevent them.
Solution: Thermal Break
The best solution to prevent thermal bridging is to create a thermal break, where the structural member is "broken" at the insulation envelope. Finding the right balance between maintaining structural strength, stiffness, constructability, and economy is a challenge. Most of the time the "broken" member must still be connected to the building structural system, often requiring additional street fasteners that can act as thermal bridges themselves.
Early in the design process, professionals from all disciplines must carefully consider and identify potential thermal breaks in the building envelope to prevent unwanted heat flow, energy loss, and other negative issues.
As with every project, our goal is to provide the owner with a new building that will perform in the short and long term and serve all users for years to come.