Missoula, Montana
Missoula Public Library
A New Community Center
Missoula Public Library's main facility was built in 1974 when Missoula County's population was half its current size. The 1970s plan for the building did not anticipate population growth, the role of public libraries in a changing society, or that everyone would need access to computers and the internet for work, school, and communication. As a result, the city's existing library was not keeping up with the modern demands of a changing society. Taking the library's past into consideration, the team focused the new design on changing technology, accommodating future growth, upholding sustainability, and creating a space for engagement in the community.
After conducting a feasibility study, in 2016, Missoula County voters approved a bond that would partially fund the project. A&E Design hired Morrison-Maierle to assist with the engineering design of the mechanical, plumbing, electrical, and site/civil engineering services.
In the summer of 2021, the Missoula Public Library officially opened its doors to the community. Thanks to smart design and an unmatched commitment from a variety of stakeholders, this versatile space will be an asset for the community for years to come.
Location
Missoula, Montana
Services and Highlights
Mechanical engineering

Plumbing design

Electrical engineering

Site civil engineering

Ground source cooling

Underfloor air distribution

Modular floor box system for ease of floor plan changes

Raised floor to accommodate HVAC, plumbing, and electrical infrastructure

Networked energy meters on each level of the building

Created sweeps and routed stormdrain piping to help maintain aesthetic integrity of the design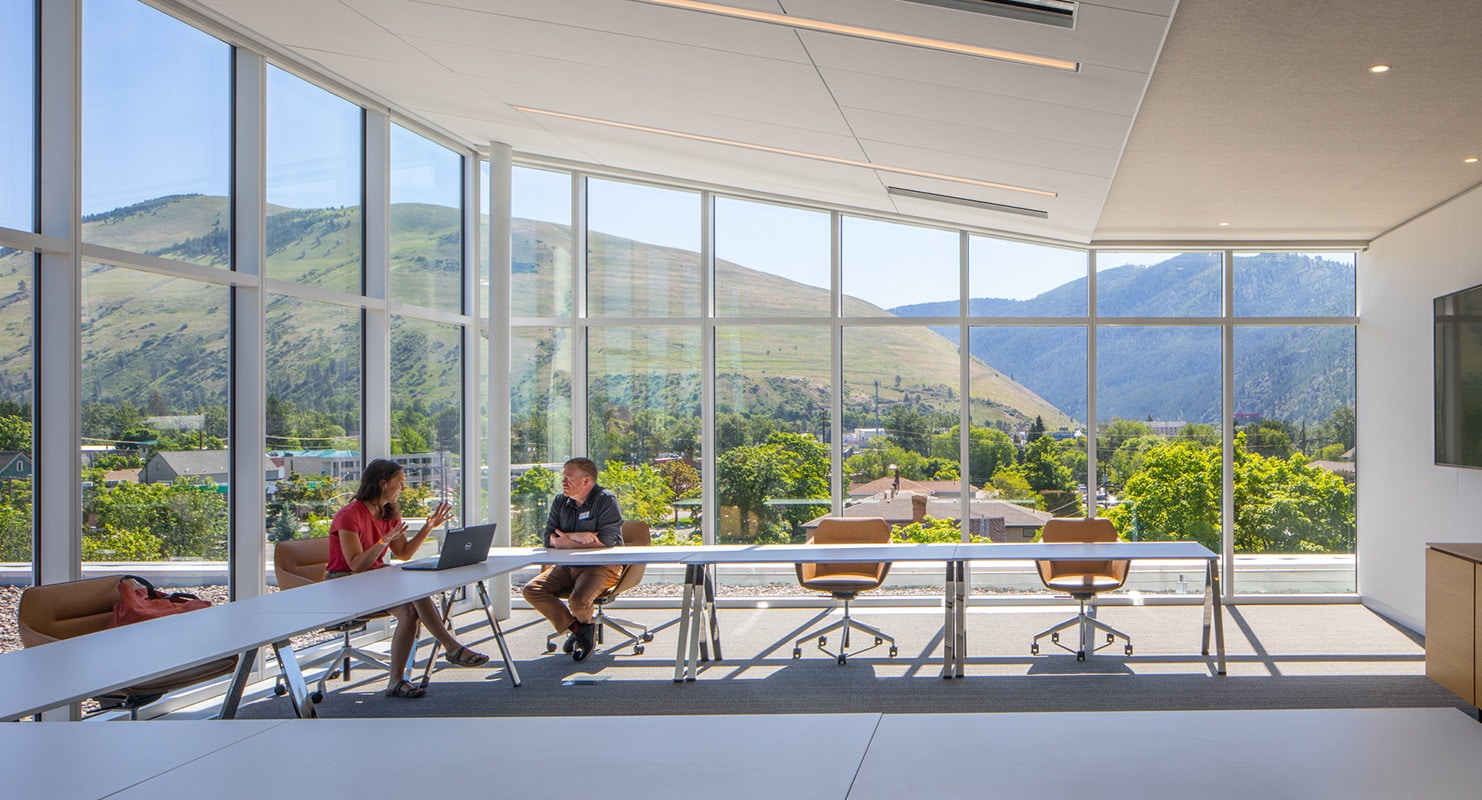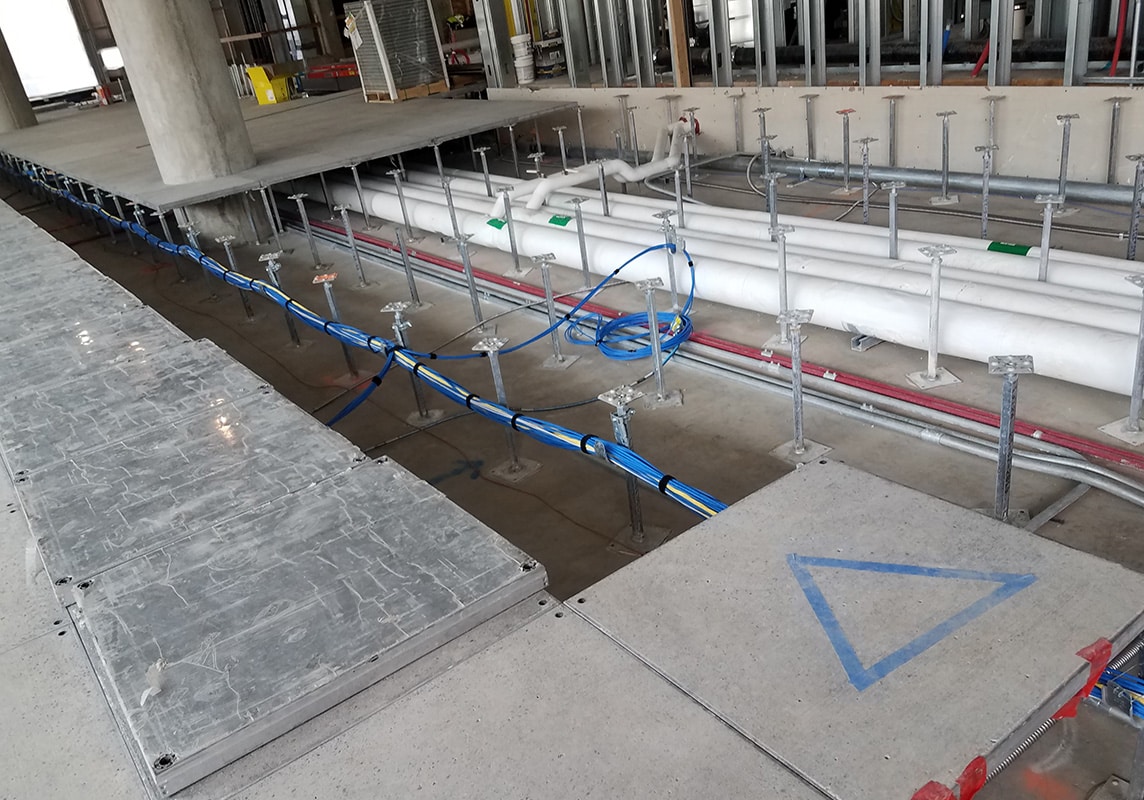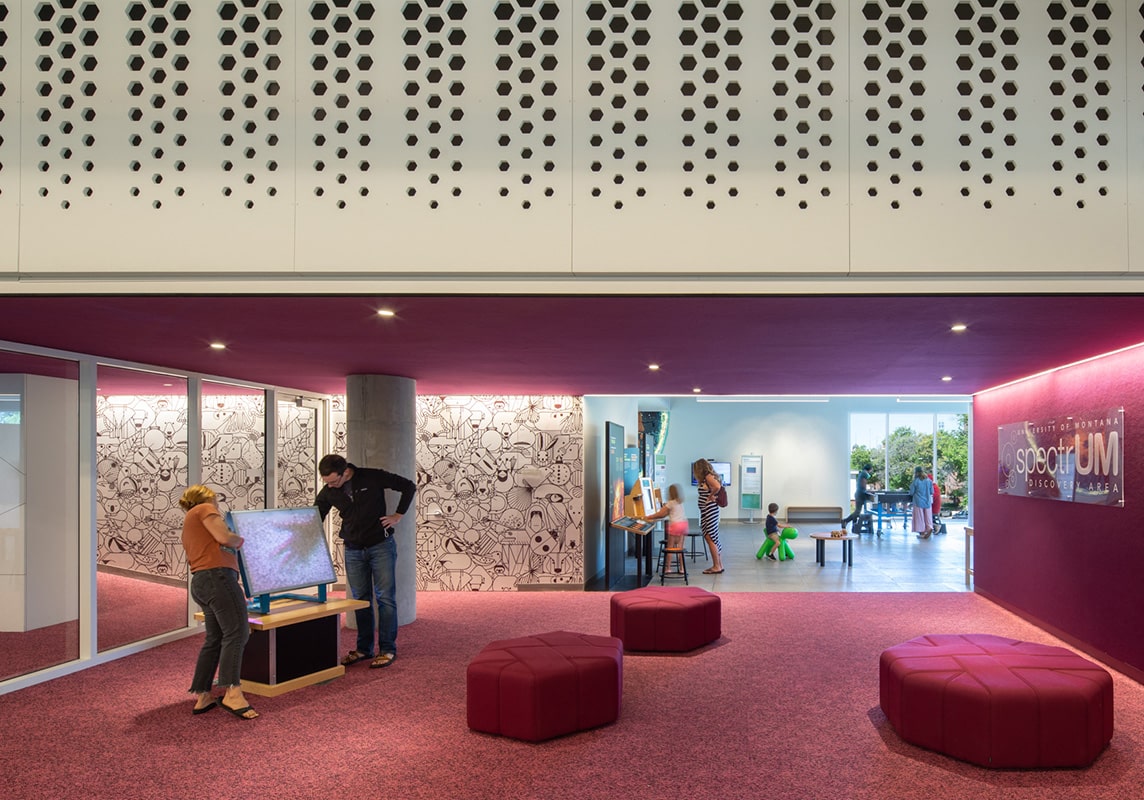 HVAC Technology for a Modern Facility
The old library had an HVAC system from the 1970s that needed frequent and costly repairs. The design team knew that a more modern solution would be crucial for the updated building. They decided to use underfloor air distribution combined with ground-source cooling to modernize the building.
With an underfloor air distribution system, supply air from the air handling equipment is discharged into the pressurized underfloor plenum at a warmer temperature than a traditional overhead cooling system. This works by supplying air at the floor level and returning the air from a space at the ceiling level. The air travels in a unidirectional path rather than mixing the room air. The unidirectional air path removes heat from people and equipment and returns through openings at the ceiling level where it travels back to the air handling equipment for conditioning.
Discharging warmer air in order to cool a building saves energy and uses an open loop ground source water loop to chill the supply air in the air handling equipment. Water is extracted from an underground aquifer via a 300 ft. supply well and pumped to the building where a heat exchanger swaps energy from the chilled water loop and the ground source loop before it is discharged back into the underground aquifer through a reinjection well. The ground source water is warmer than a traditional chilled water loop. But paired with an underfloor air distribution system, the two systems work in conjunction to effectively cool the building with no compressorized cooling equipment and a non-consumptive ground source well system.
In a typical chilled water and air handler system, 45° chilled water is used to create a 55° supply of air. However, an underfloor air distribution system supplies cooling air at 62°F for optimal occupant comfort (55° would be too cold for air delivered at the floor level). The ground-source water is 52° and is not capable of producing 55° air without additional mechanical cooling.
Pairing the ground-source water with underfloor air distribution eliminates the need for additional mechanical cooling as 52° groundwater can then be used to create 62° air.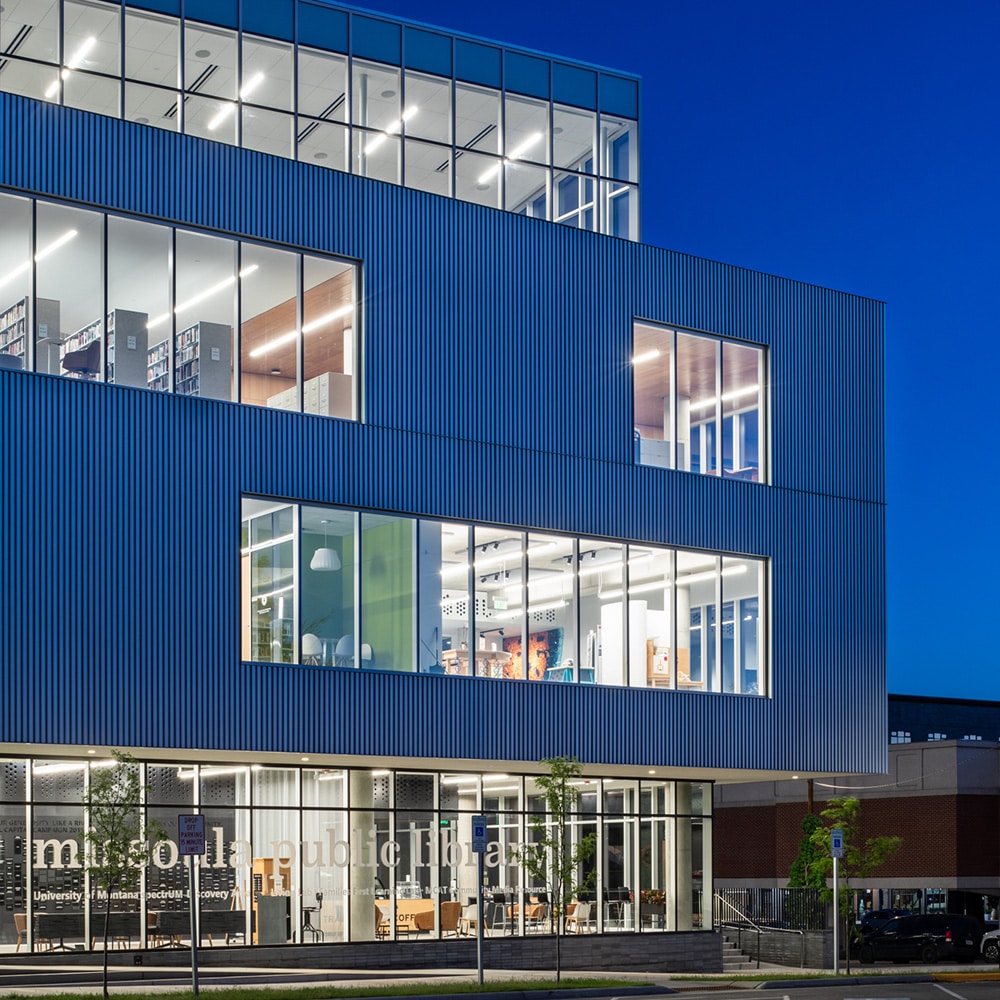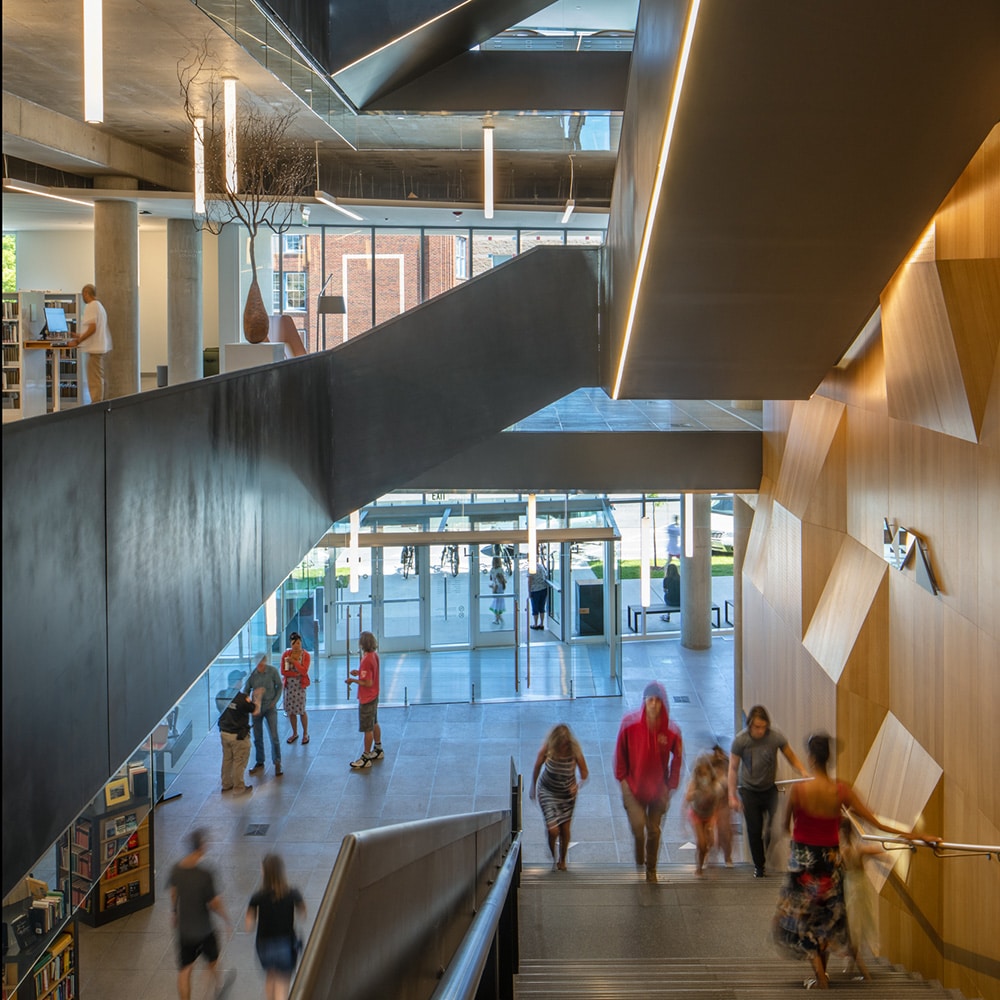 Designed for Flexibility and New Floorplans
The underfloor distribution system also provides unparalleled flexibility. Air terminals, power, and signal requirements can be easily adjusted to accommodate anticipated changes. This means, as the form and function of the library change due to community needs, the library's core infrastructure can be adjusted quickly and cheaply.
With the building's open-floor plan and using an underfloor air distribution system, Morrison-Maierle was unable to route branch circuits through walls and ceilings as with a typical power-distribution design. Instead, we employed a networked system of modular access floor boxes spider-webbed from strategically placed power distribution modules (PDMs).
The connections between floor boxes and PDMs use pre-wired, pre-terminated plug connections so the owner can move the floor boxes without hiring a licensed electrician. This design choice accommodates future renovation and any necessary movement of equipment and furniture. The PDMs were also supplied with spare terminals so future floor boxes can be added as necessary.