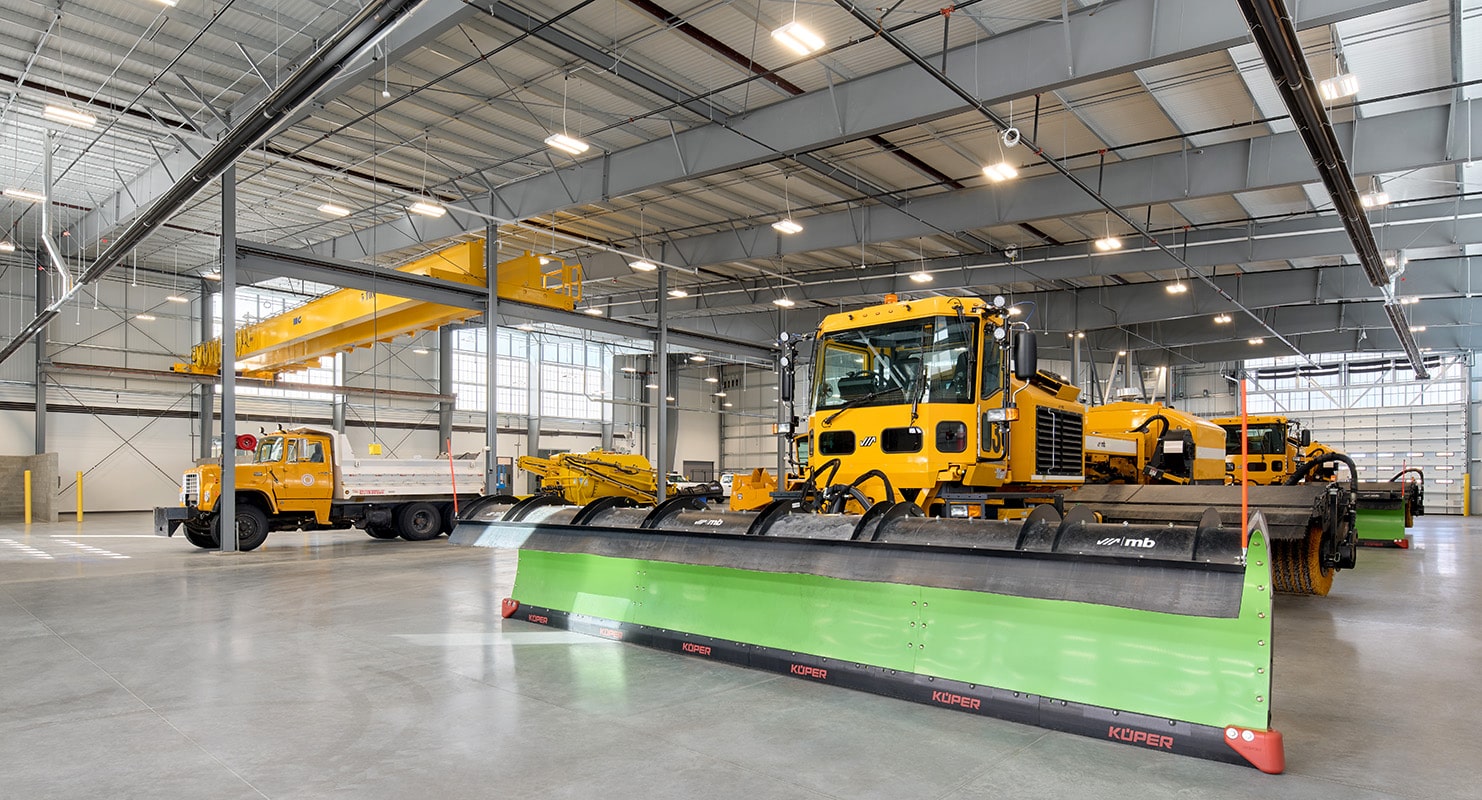 Redmond, Oregon
Redmond Airport SRE Building
Many Services Under One Roof
For two decades, the Redmond Municipal Airport's maintenance team worked out of a 7,000 sq. ft. building with three small heavy equipment storage bays. This building was far too small for the airport's needs, and as a result, the staff had to store snow-removal equipment (SRE) in multiple buildings, some without shelter.
With significant growth in air traffic, the airport decided to explore alternatives that would solve their storage problem. They also wanted a solution that would allow them to service and maintain their equipment onsite. After planning sessions and exploring several options, the airport decided to build a new 45,000 sq. ft. SRE facility that could serve many purposes.
Client
Redmond Municipal Airport
Services & Highlights
Planning

Prime-consultant design

Structural engineering

Mechanical engineering

Plumbing design

Electrical services

Overhead crane system in the wash bay and storage bay to load heavy sacks of deicer.

Space for metal and wood shops

Conference room for airport and public meetings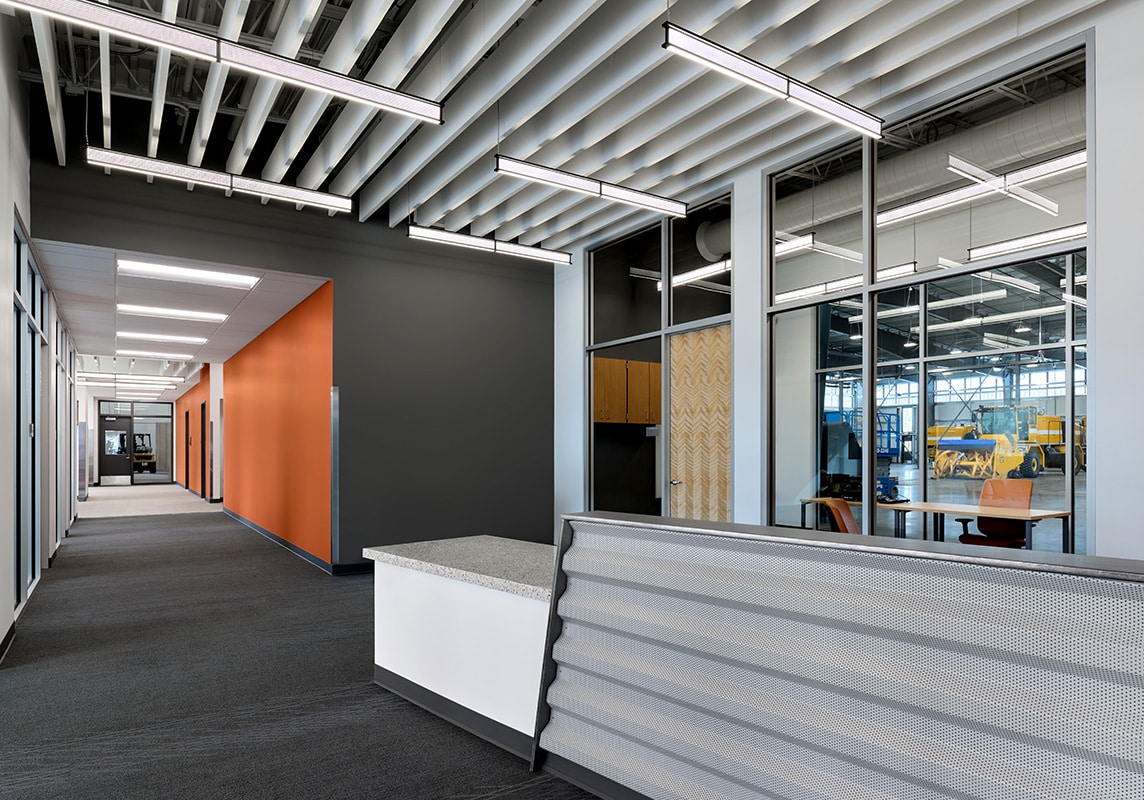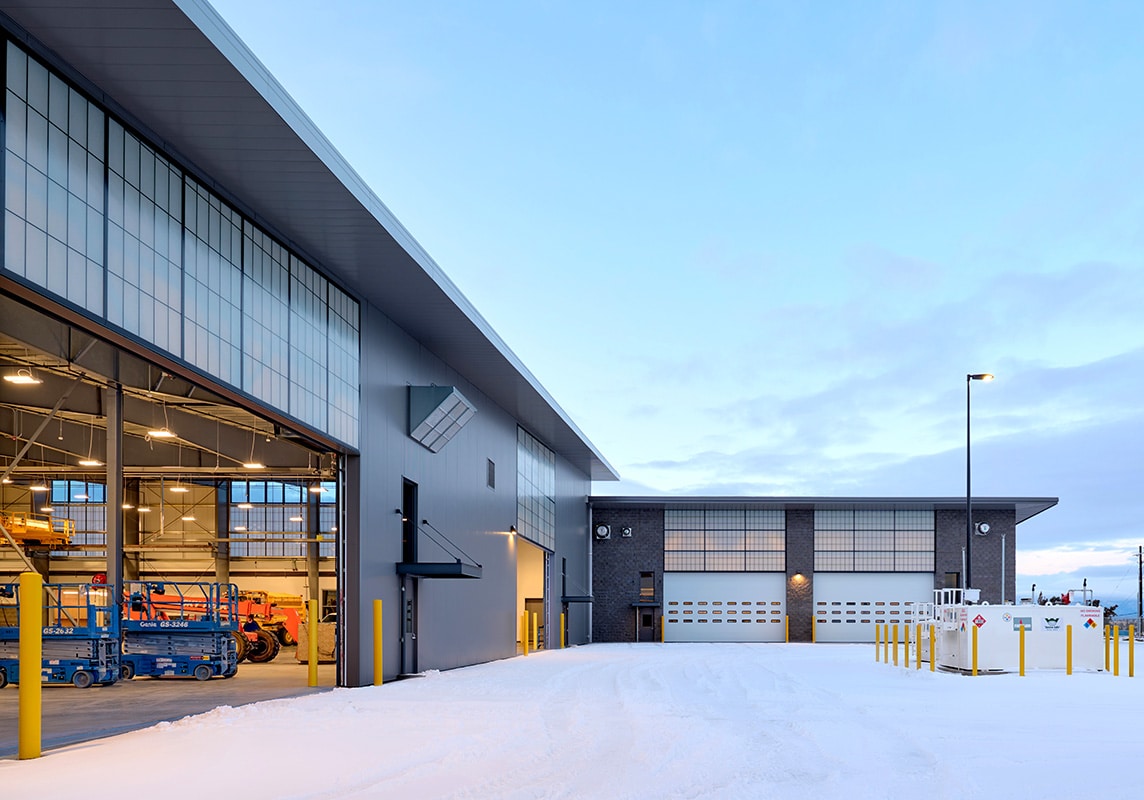 Tours and Listening Sessions
To help the airport decide what they wanted for their new building, the Redmond staff and project team toured three of Morrison-Maierle's Montana airport projects to guide the design direction for the new Redmond facility. They also gathered input from the operations staff during the preliminary design phase. Gathering input from the actual user base helped influence the footprint and functionality of the new building. As a result, the SRE building has much-needed space for existing and future equipment, new metal and wood shops, and a conference room for public meetings and other gatherings.
Multipurpose Designs
The new SRE building can store and service all equipment under one roof—improving work processes. To make this possible, Morrison-Maierle designed an overhead crane system in the wash bay and storage bay to load heavy sacks of deicer. Typically, deicing material is unloaded into a stockpile and then transferred to the spreading equipment using a front-end loader. The newly installed two five-ton bridge cranes eliminated the need for a front-end loader, and the staff can now move the material directly into a spreader below. The new larger space has allowed the airport to replace its equipment and expand its fleet. With the additional space, they recently purchased two new multi-function vehicles that can do three times more work in less time than before. As the airport expands, the new building also allows for future growth and employment opportunities.
Efficient in Energy and Structure
To remove potentially toxic substances, drainage from both deicer loading positions in the new facility runs through an oil/water separator before being discharged to the sanitary sewer. Similarly, the equipment fueling area is a concrete pad that is hydraulically isolated from the rest of the stormwater collection area. Runoff from this area flows to a stormwater utility hole in the SRE building with an oil/water stop valve. This new solution serves as an initial stopgap for any potential leaks. Then the stormwater flows to an oil/water separator with coalescing media to capture any stray minor hydrocarbons before being discharged to an infiltration basin.
The structure required three distinct construction types: a pre-engineered metal building, a portion framed with steel studs, and a section created with concrete masonry units. These three construction types posed challenges when the contractors had to interface with each other. For example, the structural team specified unique seismic joints and special flashing detailing to account for movement between the different building types.
The project team also worked with the Energy Trust of Oregon to maximize the efficiency of building systems and leverage associated financial incentives for components such as LED lighting and occupancy sensors that reduce energy consumption.