Bozeman, Montana
Rendezvous Dining Pavilion
Creating a Campus Cornerstone
Montana State University's Rendezvous Dining Pavilion is a 30,000-sq. ft., all-you-can-eat facility includes eight main serving stations, seating for 830, with half of the seating on a mezzanine level, including 100 seats on the outside covered deck. It was designed and built in a sustainable fashion to serve at least 7,000 meals per day to students, faculty, staff, and community members.
The new $18.5 million dining hall was built to not only accommodate growth, but to continue the university's commitment to providing an environment that makes students and faculty want to stay on campus.
Due to the complexities such as the heavy process and cooking loads, which are energy and water intensive and can be difficult to incorporate into a LEED-certified project, MSU now has a new facility that was completed way ahead of schedule, under budget, meets the needs of its growing population while setting a new standard for sustainability.
Client
Mosaic Architecture
Location
Bozeman, Montana
Award
Montana ACEC Engineering Excellence Award
Services and Highlights
Structural engineering

Mechanical engineering

Electrical engineering

Each of the food serveries features a modular design of the MEP systems

LED technology

Digital photosensors for automatic daylight harvesting

Make-up air handling units

Passive solar heating wall

350-foot extension to the subterranean utility tunnel and a full basement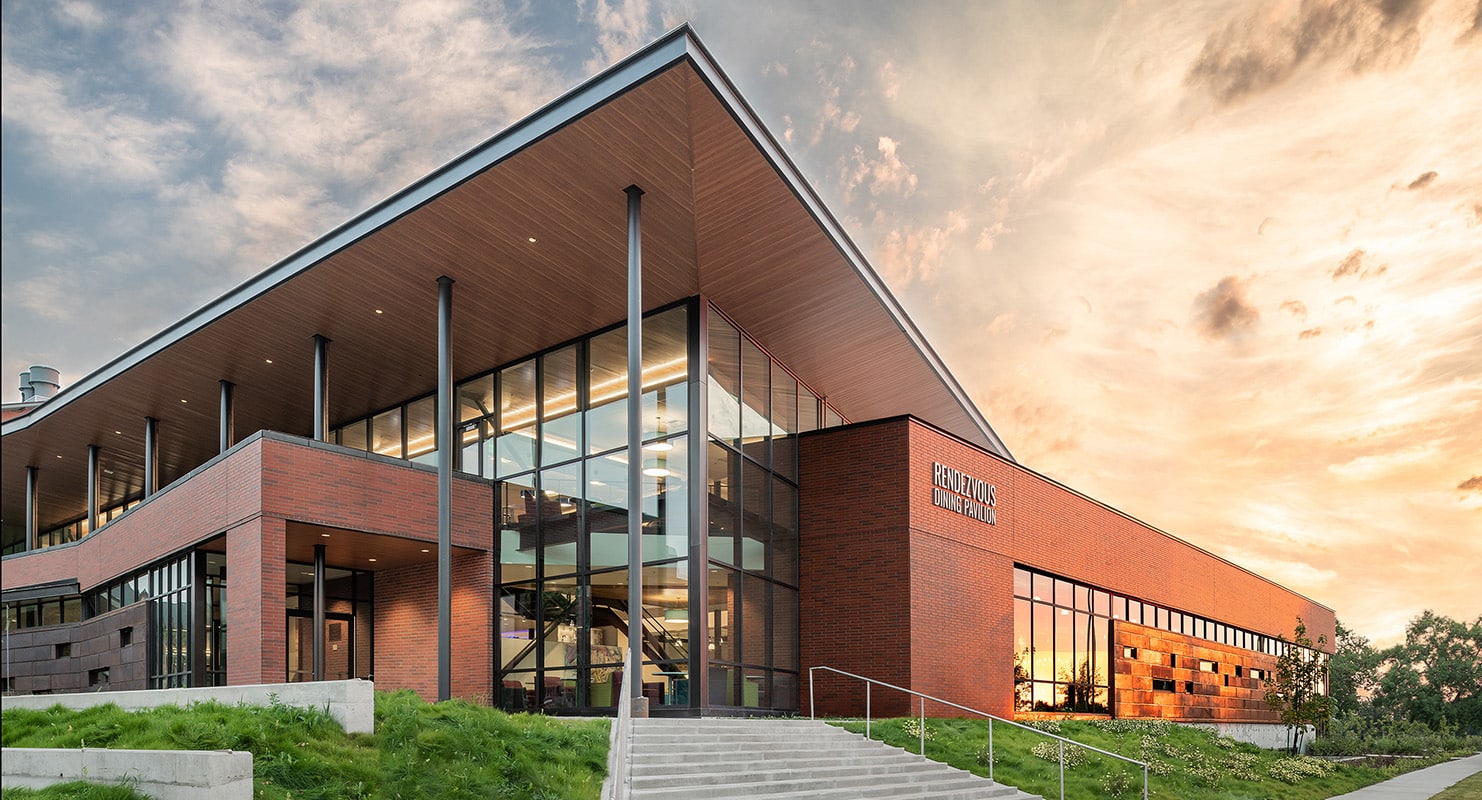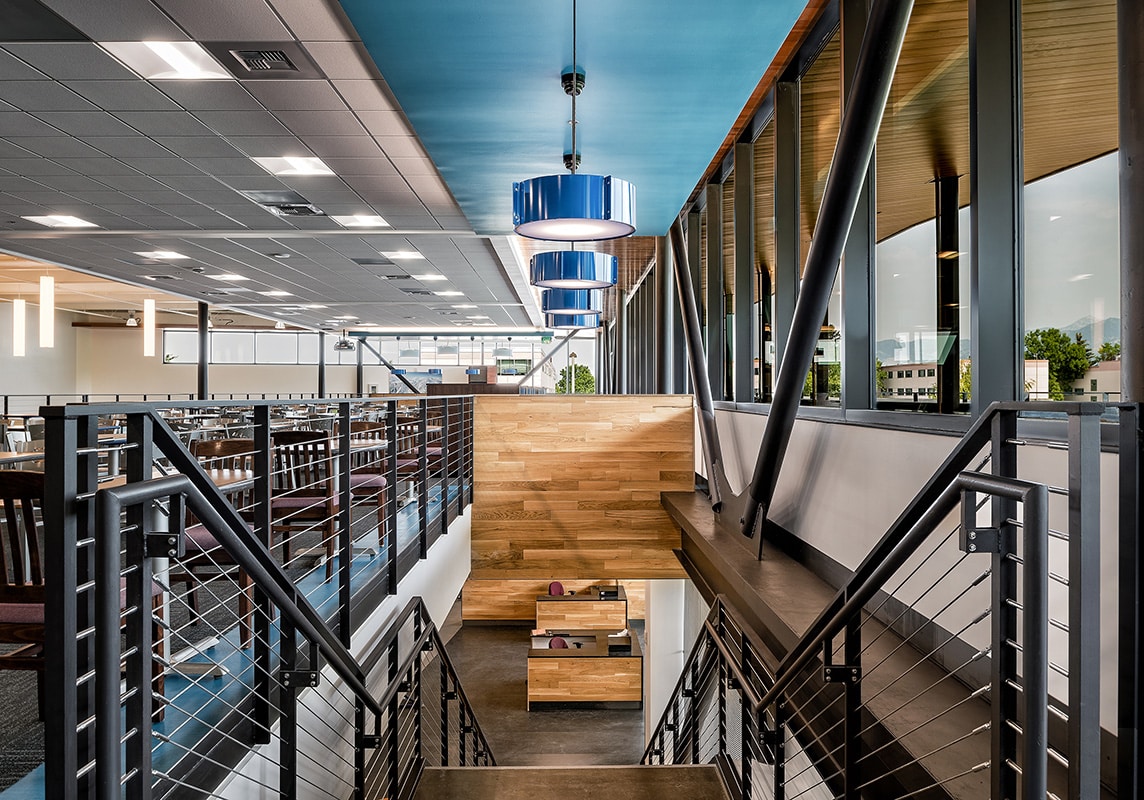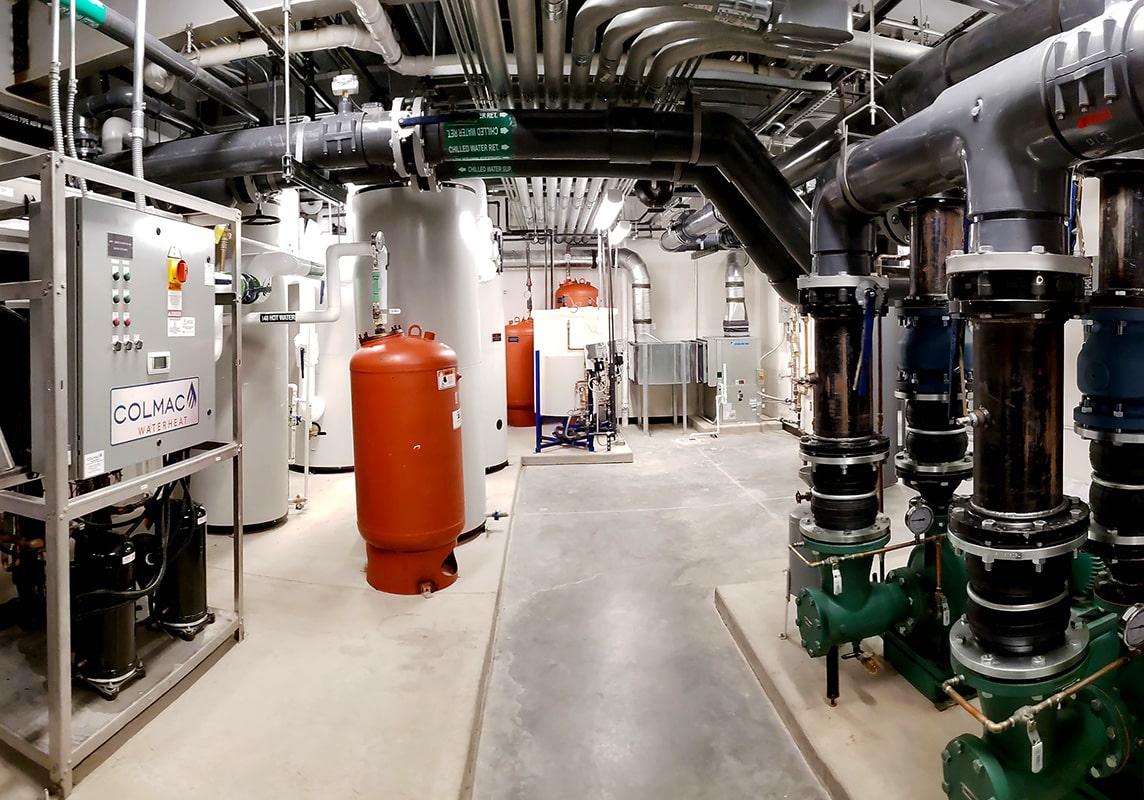 Unique and Innovative
The MSU Rendezvous Dining Pavilion was successfully completed by using several unique and innovative engineering approaches. For example, each of the food serveries in the Rendezvous Dining Pavilion features a modular design of the MEP systems. Each servery has its own electrical subpanel that all local 120/208V kitchen equipment is powered. Each subpanel is conveniently located at its corresponding servery, which allows for quick and easy access to breakers and allows for future modifications without routing electrical long distances. Electrical and plumbing systems are routed through pre-installed chases in the half-height walls that separate the serverys and kitchen equipment from the public. These walls have removable access panels along the entire length of the walls on the back-of-house side, which upon removal, quickly exposes electrical conduit and plumbing piping. This allows for easy access and maintenance of MEP systems and kitchen equipment at each servery. It also allows for flexibility as time goes on and changes are made to kitchen equipment and serverys. The modular design will allow for a simpler process when the time comes to add or subtract kitchen equipment.
In terms of lighting, the building exclusively uses LED technology. This includes the specialty pendant lighting at each servery, all recessed fixtures, and all industrial strip fixtures in the basement. By using LEDs exclusively, the lighting design was able to achieve a lighting power density of under 0.6 watts per square foot. This was done while still maintaining required foot candle levels of 50fc in food prep areas.
The building features large windows along most of the north and east sides of the facility. This provides exceptional natural indirect light into the space while avoiding the direct and oftentimes harsh sunlight from the south and west directions. Within these daylighting zones, automatic daylight harvesting is used in the lighting and lighting controls. Digital photosensors automatically dim the lighting fixtures in these zones upon sensing adequate natural light in the space, using 0-10V LED dimming technology.
The mechanical system was designed to be readily integrated into a future campus district heat pump loop. The heat pump loop in the building has multiple sources of heat recovery. The walk-in refrigerators and freezer refrigerant compressors are connected to the heat pump loop that adds heat to the loop. A water-to-water heat pump recovers heat from the building and processes it and turns it into heated domestic hot water. These devices along with the building conditioning heat pumps allow for multiple possibilities of energy recovery. The make-up air units are a new model of air handling units that allows the heat pump to be built right into the air handling units and handle 100% outside air. Make-up air that supplies the cooking process hoods are also preheated during heating months by the use of a passive solar heating wall on the exterior of the building. All of the cooking hoods have variable speed control to prevent wasted energy when hoods may be on but cooking is not taking place.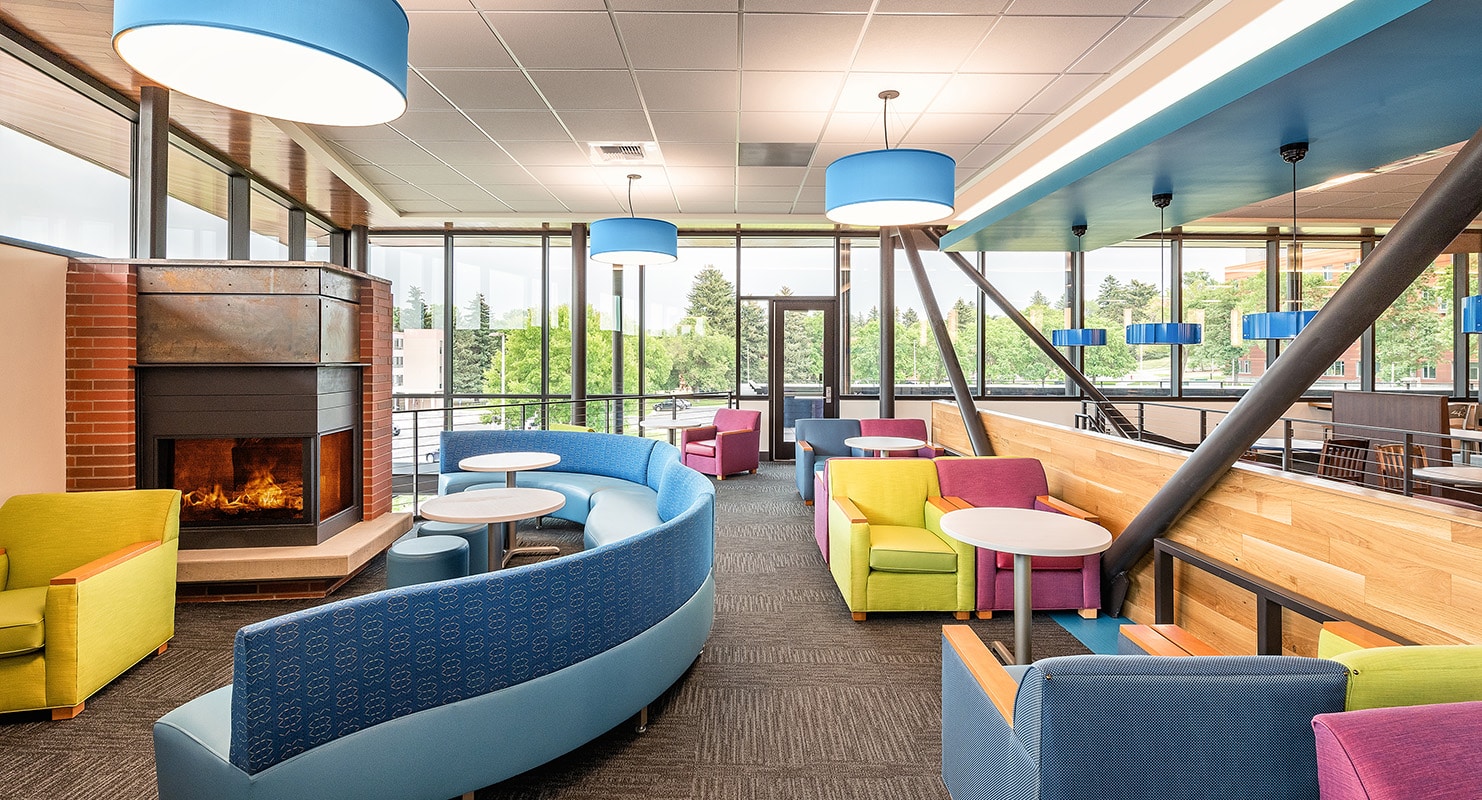 What Lies Below?
To reduce both upfront and long-term costs associated with new utility services, the design team collaborated with the general contractor and MSU to plan and design a 350-foot extension to the existing subterranean utility tunnel which provides utility services to the majority of buildings on MSU's campus. Doing so allowed for an extension of the existing steam, condensate, water, power, and communications utilities to the basement of the new building. Additionally, to reduce both downtimes required for temporary utility shutdowns, as well as shorten the overall tunnel construction schedule, precast concrete tunnel sections were designed and installed as opposed to the more typical cast-in-place concrete tunnel sections that had formerly previously been the standard.
Structurally, the team decided that a full basement was the best solution. This solution allowed for the kitchen equipment and food serverys located on the main level to be fed with electrical and plumbing from below. It allowed for simpler installation, system routing, access for MEP systems, and future maintenance purposes. It also allows MSU to rent the currently open basement space to a future tenant to generate revenue. Space is a growing concern on campus, therefore MSU will have no problem capitalizing on this available basement space.