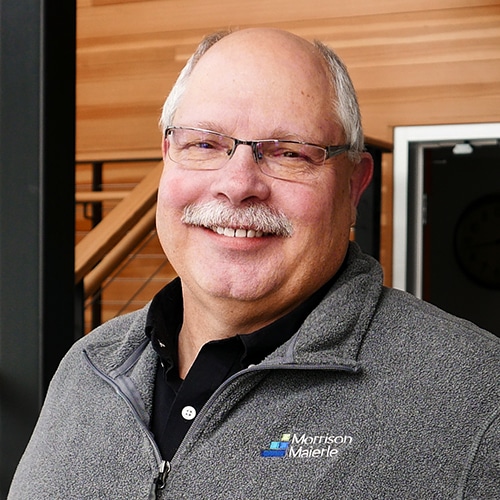 Electrical Engineer
PE
Garth Stevens
Garth Stevens has always enjoyed the challenge of creating effective electrical plan sets, and for the past 35 years, that's been his focus. He specializes in electrical systems associated with buildings, and he's worked on everything from 480V down to low-voltage systems. For Garth, designs that include backup power with generators are particularly interesting. As a member of the International Association of Electrical Inspectors (IAEI), he is also a frequent contributor to IAEI Magazine, a journal that focuses on the field of electrical installations and inspections.
Since coming to Morrison-Maierle, Garth has come to appreciate employee ownership, and he feels that "the teamwork our ownership mindset inspires creates a great work environment. Our shared goal of creating solutions that build better communities is both a challenge and a reward as we work together to put out the best designs we can."
Outside work, he stays active volunteering as a member of Engineers Without Borders and contributing to various roles in his church. He also likes to spend time with his wife, their three daughters, and his growing band of grandchildren.