Commercial
Beyond the Switch: Understanding Lighting Control
By Brian McDivitt, PE
Ever since the late 1800s, electrical circuits have used simple switches to turn lights on and off. In recent decades, energy codes have been encouraging innovation to reduce the amount of energy consumed by electric lighting. With lighting controls now starting to involve new functionalities such as automatic control of plug-in receptacles, many building owners find themselves wondering: what happened to the basic switch on the wall?
The lighting controls components used in a building depend on the needs of the owner and the building's function and size. Some components can wire into building circuit wiring, while others use low-voltage wiring for communication with light fixtures and other controls components. Recent energy codes, however, require control functions that limit the use of line voltage controls in many types of spaces. Lighting controls can also be part of a networked system, allowing a building manager to access, manage, and monitor various controls and zones throughout the building from a centralized location.
Design engineers often balance code compliance and cost implications to provide a building owner with a functional lighting controls system that is simple to use and understand. Without digging into wiring and communication methods, though, let's look at the basic functionality of lighting control components.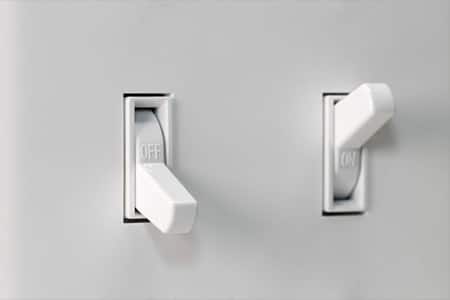 Toggle Switches
For decades, the traditional way to activate lighting in a space has been via a local toggle switch on the wall. A toggle switch either closes the circuit, allowing full power to the lights, or breaks the circuit, disconnecting the wiring bringing power to the lights. Designers often still specify these switches where the code does not require automatic controls.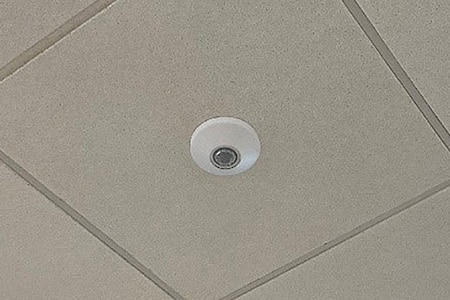 Occupancy Sensors
When lights turn on as you enter a space, a sensor has detected your movement as you enter. Occupancy sensors help conserve energy because they allow lights to stay on only while occupants are in a space. For several types of spaces, recent energy codes require an occupant to manually turn on lights via a wall switch, and the occupancy sensor turns the lights off automatically when the occupant leaves. These devices are called vacancy sensors because they only detect when the space is vacant.
A common exception to the use of occupancy sensors is when lighting in a space must stay on for security or safety reasons. A manual switch for such lighting is often in a secure location accessible only to authorized personnel. In utility spaces, such as mechanical and electrical rooms, occupancy sensors are typically not installed in the interest of safety for maintenance staff who may be working on equipment out of sight from the sensors. Owners and designers must be familiar with the exceptions provided by energy codes when considering which spaces should or should not have occupancy sensors.
Time Clock
When the code requires automatic controls, an owner may choose to use a time clock instead to avoid using occupancy sensors to turn lights off. With a time clock, lighting circuits are wired via a centralized clock that can be programmed to turn lights on and off based on a schedule. This is frequently used for tenant spaces, public circulation areas, or other use cases where occupancy occurs within scheduled hours. Time clocks often have a manual switch input to give an occupant the option to override the schedule should they need lighting during "off" hours.
Central control panels with an integral astronomical time clock provide another method to control exterior lighting between dusk and dawn. Lighting panels in these applications typically have several relays so that exterior lighting can be separated into zones, such as the building's exterior, parking lot, and walkways.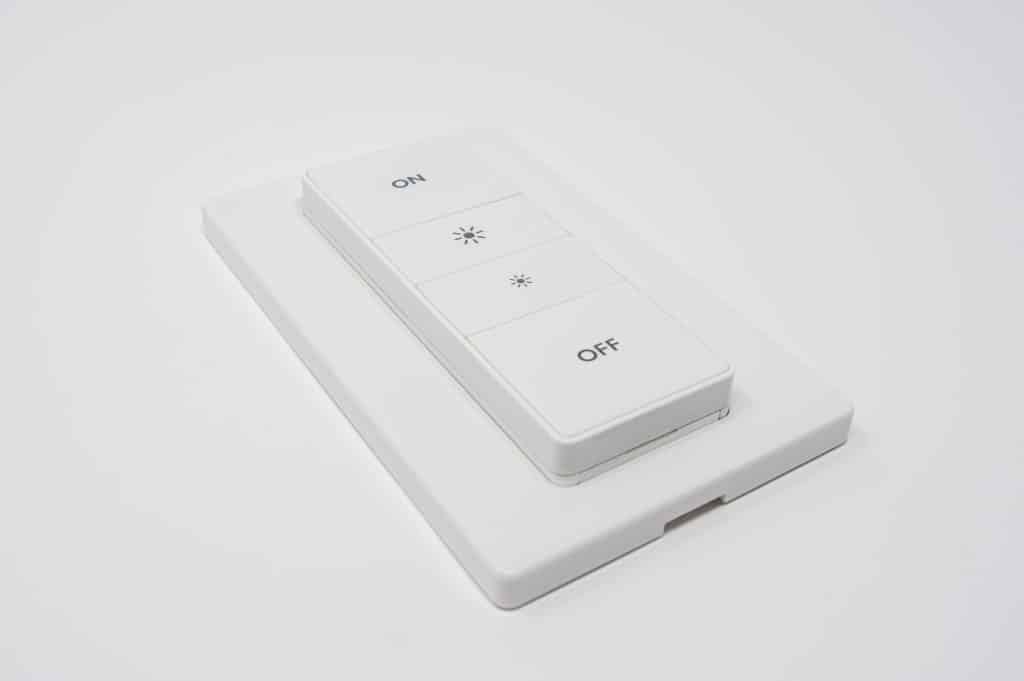 Dimming
Dimmers allow occupants to manually reduce the amount of light in a space. While the concept seems simple, there are various methods for achieving dimmed light. Some dimmers intercept the wires supplying power to the lights and modify the electrical current to reduce the amount of power supplied to the lighting. These types of dimmers are referred to as line voltage dimmers.
Today, LED lighting is the standard in new building construction, and this type of lighting operates with the use of drivers that convert building line voltage to low voltage. Instead of manipulating the electricity powering the lighting directly, low voltage dimmers use secondary wiring to communicate with the drivers to control the amount of light put out by the LED lighting. Low voltage dimmers are often grouped into constant voltage (CV) dimmers and constant current (CC) dimmers.
Energy codes are becoming more specific as to when and where lighting can be dimmed automatically. Some requirements also indicate special scenarios for dimming, such as lighting being pre-dimmed to a particular level when the lights turn on. Design engineers are familiar with these requirements and will make sure that new spaces comply with applicable energy codes.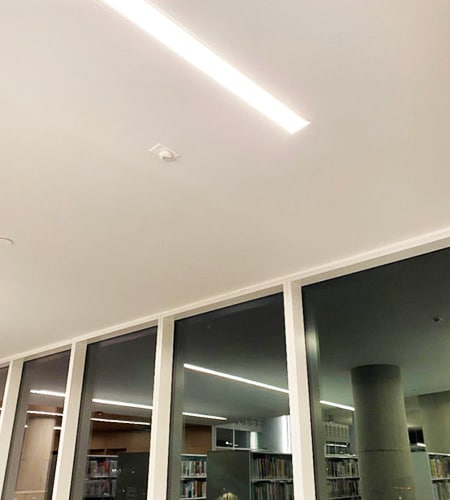 Photocells
Either in conjunction with or in place of time clocks, some exterior lighting control methods employ photocells that automatically turn lights on. These sensors have a light-sensitive "bridge" that opens or closes to let electricity through. In the absence of light, the bridge closes to power one or more lighting circuits.
For interior lighting, photocells play a more involved role in lighting control. Energy codes define some areas near windows as daylight zones, where lighting output is to be reduced to compensate for the daylight coming through the windows. Photocell control of daylight zones is automatic, often overrides local control, and operates separately from other lighting in the space.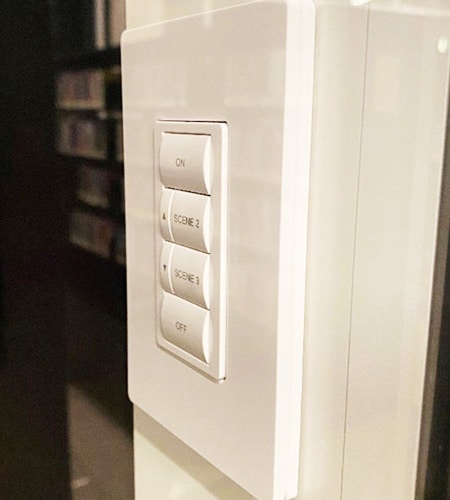 Controllers
To streamline and consolidate lighting controls communication in a space, design engineers may specify a programmed controller of some sort to facilitate the communication using low voltage wiring. Controllers accept signals and communication from switches, occupancy sensors, and/or photocells and then use this information to tell the light fixtures what to do. Various manufacturers employ a myriad of communication methods and protocols to accomplish controls communications. A design engineer can assist an owner with project requirements to help minimize cost implications and system complexities. Some manufacturers also provide maintenance or troubleshooting services to alleviate these efforts from a building manager. Depending on the complexity of the system, a building owner may also request manufacturer training and commissioning at the completion of a construction project.
Many lighting control systems now provide user-interactive control interfaces. A multi-button scene switch allows an occupant to bring one or several lighting zones to predetermined lighting levels according to a space's function or atmosphere. Some control systems have touchscreen wall stations to make the lighting control experience more engaging.
Networked Controls and Wireless Communication
Lighting controls can be networked together in larger buildings or more complex controls systems. Such systems offer a connection so the building manager can monitor or control the lighting controls devices throughout the building from a central location via secure web browser on computer or application on a mobile phone. Networked systems can indicate battery levels for battery-powered devices, energy monitoring for spaces, occupancy and space usage analysis, and time scheduling. A building manager can also easily adjust lighting controls with a networked system, such as occupancy sensor delays, high/low trim levels for lighting, and other settings to better fit the needs of various spaces.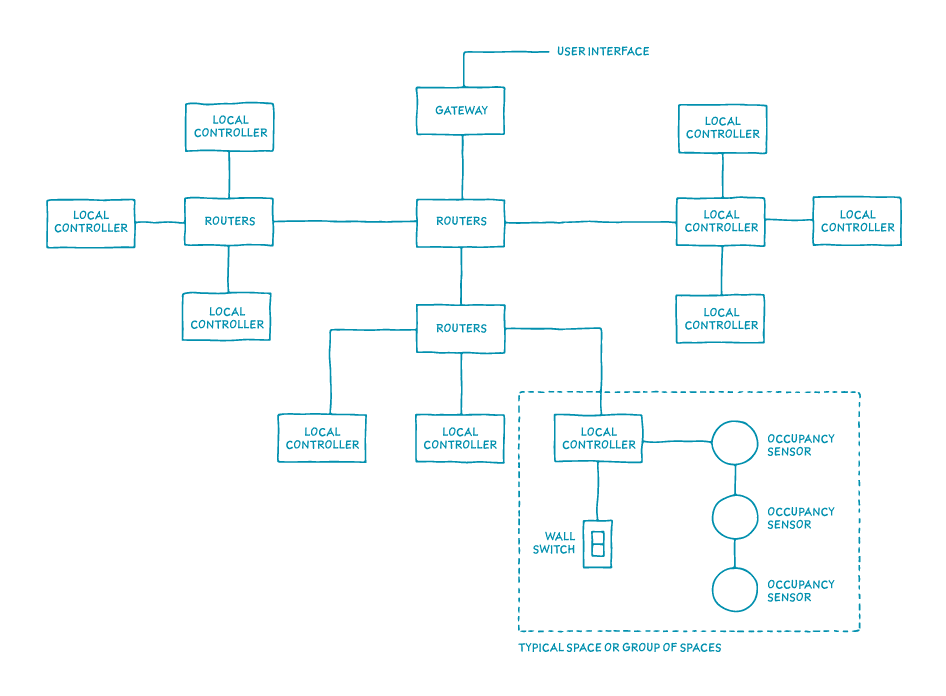 Networked lighting controls often include several additional devices to facilitate network communication, such as gateway, routers, and any necessary components to connect controllers into the network. Many times, this communication is simplified using wireless communication. Designers can use local controls in a space to communicate wirelessly; however, wireless local controls often become battery-powered and increase involvement of maintenance attention when batteries require replacement. While this is often a maintenance concern, typical average battery life is five years, and networked controllers can usually give notification when a control device's battery is low.
A major advantage for wireless controls is ease of device placement because they are not hardwired and can move to any location in a room, whether for occupant preference or future remodels. Wireless controls have proven to be a satisfactory solution for retrofit or remodel applications, because running new control wires throughout an existing space may not be desirable or feasible. Wireless controls can also reduce the wiring complexity introduced with networked systems. Some owners, however, prefer to have tangible wires to trace rather than troubleshooting the invisible wireless signals.
How Can We Help?
Lighting controls have progressed well beyond the traditional wall toggle switch. Each building faces different requirements and may involve some or most of the devices explained here. We hope these explanations of lighting controls components help you to better understand the devices that make up a lighting controls system. As electrical engineers, we are familiar with electrical, building, and energy codes, and are prepared to help you design lighting controls for your next remodel or new construction project.